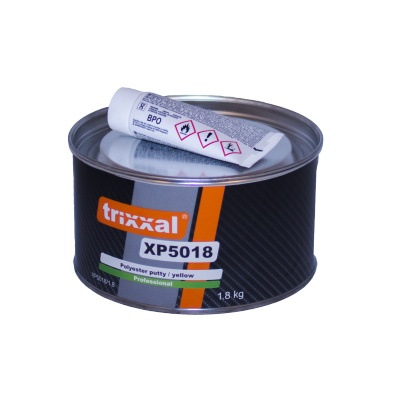 ---
CHARACTERISTIC
Fine body filler easy to work, characterized by good shaping properties in any required thickness. Suitable hardness of putty to hardness of paintwork and the smooth non-porous surface allows to use this product as filling and finishing putty. Polyester putty was designed for use on steel and glass-fibre reinforced plastics. Manual / machine sanding dry. Easy to work also with homogenous surfaces even by applying thick coats. Polyester putty doesn't fill the sanding paper. Deep imperfections are filled in a few coats.
APPLICATION
The surface must be cleaned, dry, degreased and matted. Thoroughly mix putty and 2-3% of hardener BPO by weight. Apply within 5 minutes at 20oC. Higher temperature can reduce the pot life and accelerates the drying time.
NOTE
Using too much hardener can lead to topcoat discoloration. It is not recommended to use putty below 15oC.
---
Related products
---
Accessories