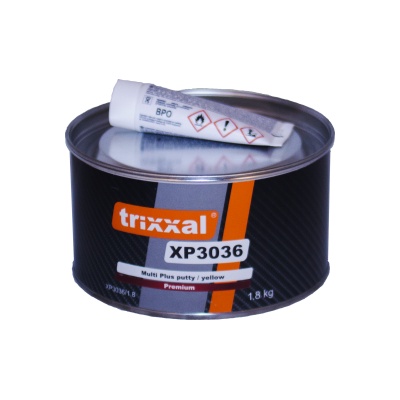 ---
CHARACTERISTIC
Multi Plus Putty is multifunctional polyester putty, designed for steel, aluminium, galvanized grounds and polyester laminates. Due to its excellent thixotropy it has very good shaping properties in any required thickness. It can also be used as a finishing putty, leaving smooth surface without pores. For filling unevennesses especially on aluminium and galvanized surfaces. Destined for manual / machine treatment with sanding dry materials. For very large unevennesses putty should be applied in several layers. Does not fill sandpaper while grinding.
APPLICATION
The surface must be cleaned, dry, degreased and matted. Thoroughly mix putty and 2-3% of hardener BPO by weight. Apply within 5 minutes at 20oC. Higher temperature can reduce the pot life and accelerates the drying time.
NOTE
Using too much hardener can lead to topcoat discoloration. It is not recommended to use putty below 15oC.
---
Related products
---
Accessories