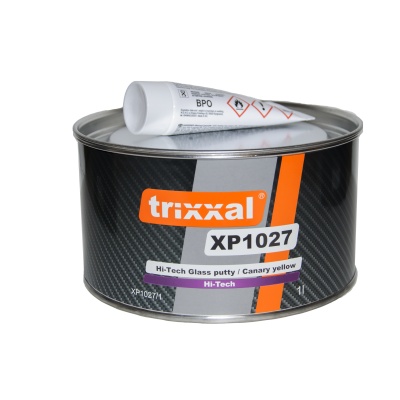 ---
CHARACTERISTIC
Super light putty with glass fibres. It is characterized by creamy consistency, which allows easily to work in 2 - 4 mm layers and to grind with high granulation of abrasives. Possibility of using higher granulation of abrasives (coarse cut P120 - P150). Adequate putty hardness to automotive coatings eliminates creation of crossings between putty and repaired surface. Due to this glass putty can be applied also directly under filling primer. This putty is designed particularly for large repairs of very destroyed surfaces. For filling unevenness on steel, aluminium, galvanized and polyester-glass surfaces. Destined for manual / machine treatment with sanding dry materials, does not fill sandpaper while grinding. Easy to work also on surfaces with complicated shapes even when applying thicker layers. It has a very good surface adhesion, designed for e.g. reinforcing damaged surfaces, increasing the mechanical strength of the repaired element.
APPLICATION
The surface must be cleaned, dry, degreased and matted. Thoroughly mix putty and 2-3% of hardener BPO by weight. Apply within 5 minutes at 20oC. Higher temperature can reduce the pot life and accelerates the drying time.
NOTE
Using too much hardener can lead to topcoat discoloration. It is not recommended to use putty below 15oC.
---
Related products
---
Accessories